New teachers within the Rockdale County Public School (RCPS) system are armed with a secret weapon when beginning their careers in education. Her name is Ursala Davis, Teacher Effectiveness Coordinator for the District.
Prior to embarking on a career in education, Davis worked as a business analyst spending her days looking for ways to break models and programs, in an effort to make them better. She now applies those skills, coupled with her advanced researching prowess on her quest to constantly improve educators and mentors, while also pursuing her Ph.D. in Curriculum and Instruction.
Ursula is constantly pushing the limits of learning and boundaries, all in pursuit of improving the teachers and peer-to-peer mentors within her district.
The soon-to-be Dr. Davis recently shared some of the resources that have inspired her during the buildout of the K-12 teacher induction program at RCPS, many of which will also be cited in her dissertation – "Impact of Video Coaching with Elementary Induction Teachers", which will examine how elementary school induction teachers perceive video coaching as a job-embedded professional development strategy.
---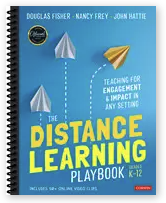 The pandemic teaching of mid-2020 was not really distance learning, but rather crisis teaching. But starting now, teachers have the opportunity to prepare for distance learning with purpose and intent – using what works best to accelerate students' learning all the while maintaining an indelible focus on equity.
Harnessing the insights and experience of renowned educators Douglas Fisher, Nancy Frey, and John Hattie, The Distance Learning Playbook applies the wisdom and evidence of VISIBLE LEARNING® research to understand what works best with distance learning. Spanning topics from teacher-student relationships, teacher credibility and clarity, instructional design, assessments, and grading, this comprehensive playbook details the research- and evidence-based strategies teachers can mobilize to deliver high- impact learning in an online, virtual, and distributed environment
---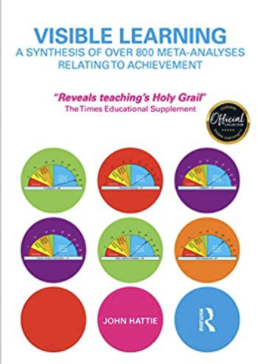 Performance Feedback plays a critical role in the coaching cycle. It is when the coach presents data on the teacher's performance they obtained from the Observation they performed. Feedback can be formal or informal and is thought to be so important to achieving a successful outcome from the coaching experience that some researchers consider it to be an evidence-based practice in and of itself. Feedback is said to be most effective when it is specific, timely, positive, and corrective if necessary. There are a few ways a coach can deliver their feedback to the teacher; written, face-to-face, or via a video – all of which have their own advantages and disadvantages.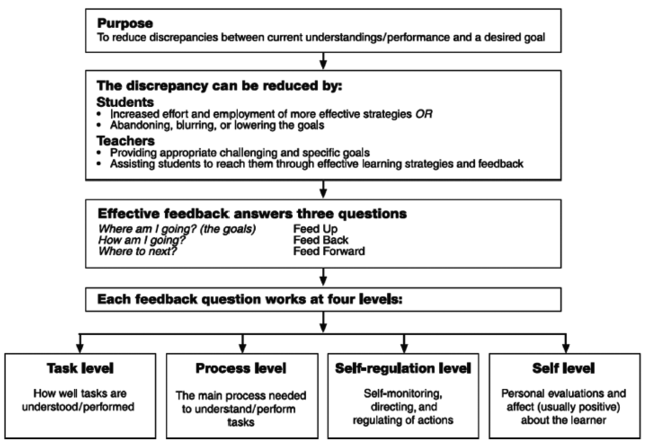 Davis is currently digesting the wealth of knowledge that is this feedback structure. She is working on a way to deliver this information through a series of trainings for administrators, that they can then redeliver to teachers to apply it to the district's peer-to-peer feedback model.
---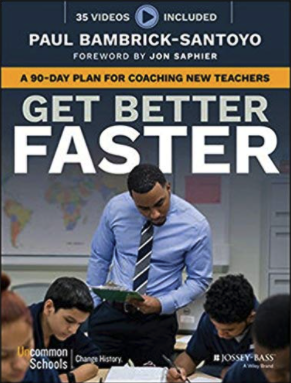 There are many different coaching models in existence, but most are based on similar principles and are applicable to teachers in Early Education, Early Intervention, K12, and Higher Education. These models showcase the best practices for improving an individual teacher's performance. There are 4 broad categories of an effective coaching cycle for teachers: Observation, Modeling, Performance Feedback, and Alliance Building Strategies.
---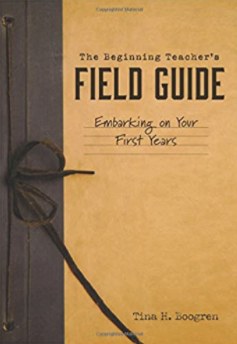 The joys and pains of starting a teaching career often go undiscussed. This field guide dives deep into the personal side of teaching, offering crucial advice, empathy, and new-teacher support. The author details six phases every new or first-year teacher goes through (anticipation, survival, disillusionment, rejuvenation, reflection, and second anticipation) and outlines targeted classroom strategies, teaching tips, and self-care practices for each.
* Ursala says: It is as important for administrators who are coaching and working with new teachers, as it is for new teachers to read.
---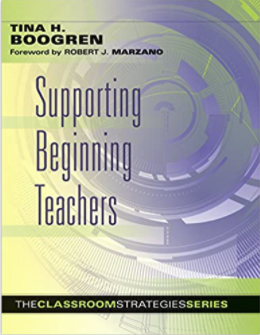 Give new teachers the time and professional guidance they need to become expert teachers. Investigate key research, and examine the four types of support-physical, emotional, instructional, and institutional-that are crucial during a teacher's first year in the classroom. Discover essential strategies for K-12 mentors, coaches, and school leaders to develop an effective mentoring program schoolwide.
---
Jim Knight, Founder of Instructional Coaching at Learning Forward 2017
Learning to integrate video into instructional coaching takes practice. One mistake that Jim Knight originally made in his own instructional coaching was not utilizing the video strategically and at the right time within the coaching process. Jim reveals his best practices and worst mistakes for instructional coaching with video. Read the entire blog from Edthena here.

* RCPS secured permission from Jim Knight's Instructional Coaching to incorporate the Watch Yourself and Watch Your Students rubric into their program.
---
A timely guide to online teaching strategies – School closures in response to the covid-19 coronavirus pandemic resulted in an immediate and universal pivot to online teaching. More than 3.7 million teachers in the U.S. were suddenly asked to teach in an entirely new setting with little preparation and no advance notice. This has caused an unprecedented threat to children's education, giving rise to an urgent need for resources and guidance. The New Normal is a just-in-time response to educators' call for help. Teaching expert Doug Lemov and his colleagues spent weeks studying videos of online teaching and they now provide educators in the midst of this transition with a clear guide to engaging and educating their students online.
---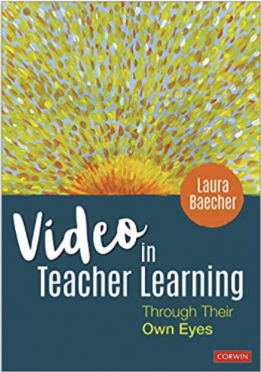 Video recording is the only feedback method that allows educators to view their teaching through their own eyes. Video in Teacher Learning provides guidance on how to get started and how to engage in nonjudgmental, descriptive analysis using this powerful tool. Written for instructional coaches, administrators, supervisors, and individual teachers.

---
Ursala Davis and the RCPS administration are constantly seeking ways to enhance their teacher induction program, exploring every opportunity to improve and support the educators within the district. We at Torsh are proud to be a part of those efforts, by providing a platform that is flexible enough to support their ever-evolving needs.
Hear what mentors within the RCPS have to say about the value of TORSH Talent to the program.
Interested in how Torsh could improve your school or district's professional learning program? Click here to connect.